Liz Upchurch, pianist, collaborates with Jane Archibald at Music in the Afternoon on November 14, 2019. At a November 4 gala she received a "Ruby" award from Opera Canada for her outstanding contributions to the Canadian opera community. Here is her speech from that evening, sharing her life story, recently posted for Canadian Opera Company subscribers in Issue 13 of NOTES.
A CANADIAN MIRACLE by Liz Upchurch
It was Schubert lieder that lured me to the Canadian Rocky Mountains in the early '90s. It was there, in a summer program at the Banff Centre, that two truly remarkable things happened: I met a man who was to become my musical mentor, Martin Isepp. As he had done for so many artists before and after me, he seemed to hold the magical key to unlocking the secrets not only of art song but opera as well. Thanks to him, I was officially hooked on opera.That summer I also met a young Canadian woman, a brilliant theatre director, who was to become the love of my life. There was only one problem. She was Canadian and I was British. Where could we live? We spent the first few years trying to see each other whenever humanly or financially possible. After a while, it was clear that we wanted and needed to be in the same place. My newfound passion for opera seemed to offer my career extraordinary opportunities, whereas my love as an English person for a Canadian was filled with political obstacles too big to overcome. We tried finding ways to live together in my hometown of London, England. There I was establishing a career as a soloist, chamber musician and répétiteur. Unfortunately, British Immigration had other plans. They decided Jen absolutely had to leave the UK – without the possibility of return. Overnight we went from a world filled with hopes to the horrible realization that we didn't have a country to live in that would accept us as a couple. What on earth were we going to do? Where would we go? We were given five weeks until Jen had to leave the UK. We were beyond distraught. The phone rang off the hook with wonderful people offering advice or even offers to come and live in their country, places like Holland and even Australia. This prospect was beyond daunting for both of us. We needed a small miracle. We had been sifting through any legal information we could find about our predicament. Then, when looking through the Stonewall legal aid booklet, we discovered a chapter marked "where to live in the world." There were only four countries on that list and to our absolute amazement, a new country had just been added: Canada. It was 1998 and there were now five countries in the world that would sponsor same-sex couples. This was our miracle. We went running to the Canadian High Commission in London where the sweetest Canadian man named Mr. Rose asked how long Jen had left before needing to leave the UK. We had just over two weeks. He looked at me and promised that I would become a landed immigrant of Canada before Jen had to leave. Our miracle kept growing because he kept his word. My own country had firmly closed its doors, but Canada's were wide open and welcoming. We could not have been more grateful.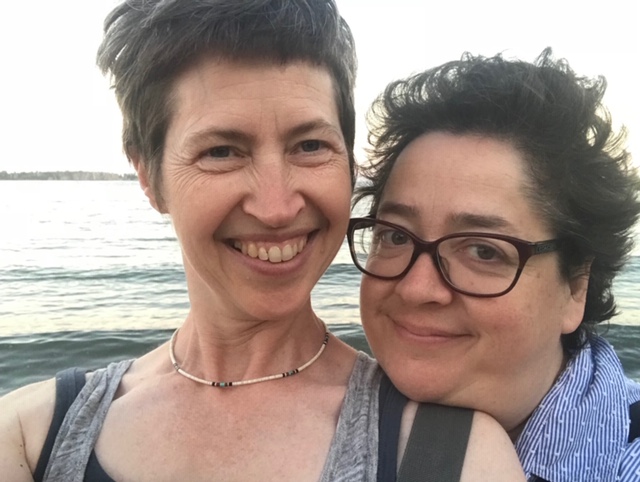 Jen and Liz
STARTING FRESH
Now, where should we live in Canada? It needed to be on the east coast so I could travel more easily to Europe. We asked advice from all the key people I had met in Banff. One of them was the iconic voice teacher and Canadian soprano, Mary Morrison. She said, "Oh my dear, you need to audition for Richard Bradshaw!" And the next thing I know, I was playing an audition for the Canadian Opera Company. Three weeks later, I was hired as a répétiteur at the company to work on Fidelio with Maestro Bradshaw conducting. Over the course of my contract, I kept coming across names like "Bayrakdarian," "McHardy," and "Westman" on the daily rehearsal schedule. I wasn't sure who they were at first – they weren't in my show and they weren't understudies – so who were they? Then I realized that these were the COC's young singers. It wasn't an ensemble at all; it was a training program for operatic voices that happened to be called the Ensemble Studio. Halfway through my contract, Richard Bradshaw asked me if I wanted to run the Ensemble Studio fulltime. I was honestly taken aback. What on earth could I offer them? We were practically the same age and I felt like I didn't have nearly enough experience for such an important job. But I just thought, "Well, I'm going to give it a go. It's an amazing challenge. I will try it for a year." Twenty years later, here we are.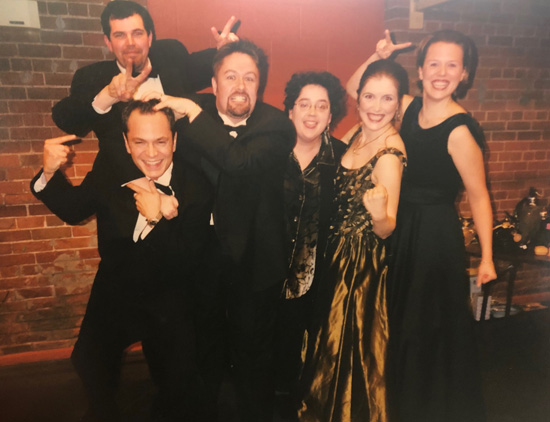 Liz Upchurch (centre) with her first Ensemble Studio cohort:
(l-r) Andrew Tees (back), Alain Coulombe (front), Michael Colvin, Liz, Krisztina Szabó and Liesel Fedkenheuer
SHIFTING ROLES
In my first year as Head of the Ensemble Studio, I was blessed with some of the most wonderful human beings: artists like Krisztina Szabó, Alain Coulombe, Michael Colvin, and Steven Philcox – can you imagine what that was like? We were more like friends than colleagues. There was an amazing camaraderie between everyone. The training ran quietly alongside the shows.
My role now is almost unrecognizable to what it was. I came into the company as a répétiteur who looked after the Ensemble Studio. I played the shows and coached the Ensemble Studio alongside a handful of other trainers. Then a few years after I started, I began to lose the vision in my right eye, having already lost most of the vision in my left. I was now legally blind. I couldn't follow a conductor anymore, I had to relearn how to read scores. My job as a répétiteur would not be possible. Unquestionably I would have to change everything I did and the way that I did it.
Moving away from mainstage productions actually worked out for the better. Under the old setup, I could easily miss working with Ensemble Studio singers for weeks if they weren't cast in the show I was working on. This way, I could take a step back and oversee the nitty gritty of their day-to-day and more readily address their needs. By stepping into more of an oversight role, it became clearer to me what these young singers needed on a more regular basis. Without realizing it, I had become a common factor in their sessions with all the outside trainers – the glue, if you will. We would collaborate and when the outside trainers left, I could help the artists distill the information. This was a key element on how the Ensemble Studio's training was to evolve.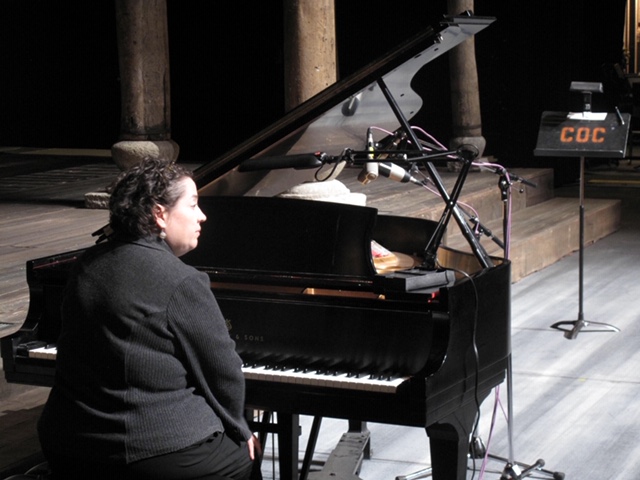 Playing on the Four Seasons Centre stage
THE ENSEMBLE STUDIO TODAY
I started to prioritize a collaborative approach to the training model a number of years ago, the goal being to help unify the training language used. There are so many different elements to singing, that we need a clear vocabulary to clarify the teaching goal. The body, the voice, the breath, the languages, the music, the drama: these elements all interact when you teach singers. These are often taught separately, but it seemed to make more sense when we worked together in the same room at the same time. As well as learning from each other's craft, we could also problem-solve in a cohesive way.
I think most singers are quite shocked when they first join the program because they're so used to having one teacher and then suddenly you have three or four trainers in the room at the same time. To my knowledge, this way of teaching singers as a team is truly unique. Once they start to trust the work, they also see the benefits. So do the trainers. We try to tailor the program to meet the needs of individual singers. In a program that moves at such a rapid pace, that's incredibly important. We don't work collaboratively all the time, only when we feel that this would be useful. So, we offer a menu of resources that singers are able to mix-and-match. Ultimately, we want to make sure that when our artists leave us, they have a sense of independence and all the tools and connections they need to succeed wherever they are in the world. And our singers really are all over the world.
If you had told me nearly 30 years ago that I would be living in Canada, running a prestigious operatic training program, and married to a woman, I'm fairly sure that I would have laughed long and hard. I wouldn't have believed any of it.
In my 21st season at the COC, it amazes me that I have overseen an entire generation of young Canadian singers and pianists. It continues to be one of the most thrilling adventures of my career. There isn't a day that goes by where I don't learn something from these gifted artists and trainers, as well as the high-profile artists that perform on our mainstage. I am enormously proud of the program – our trainers work so hard to make sure that the teaching is at the highest level – and I have evolved as a person, a teacher, and an artist as a result. We have done some groundbreaking work here and (although it is not very Canadian to say this, I will anyway) there is much to be proud of.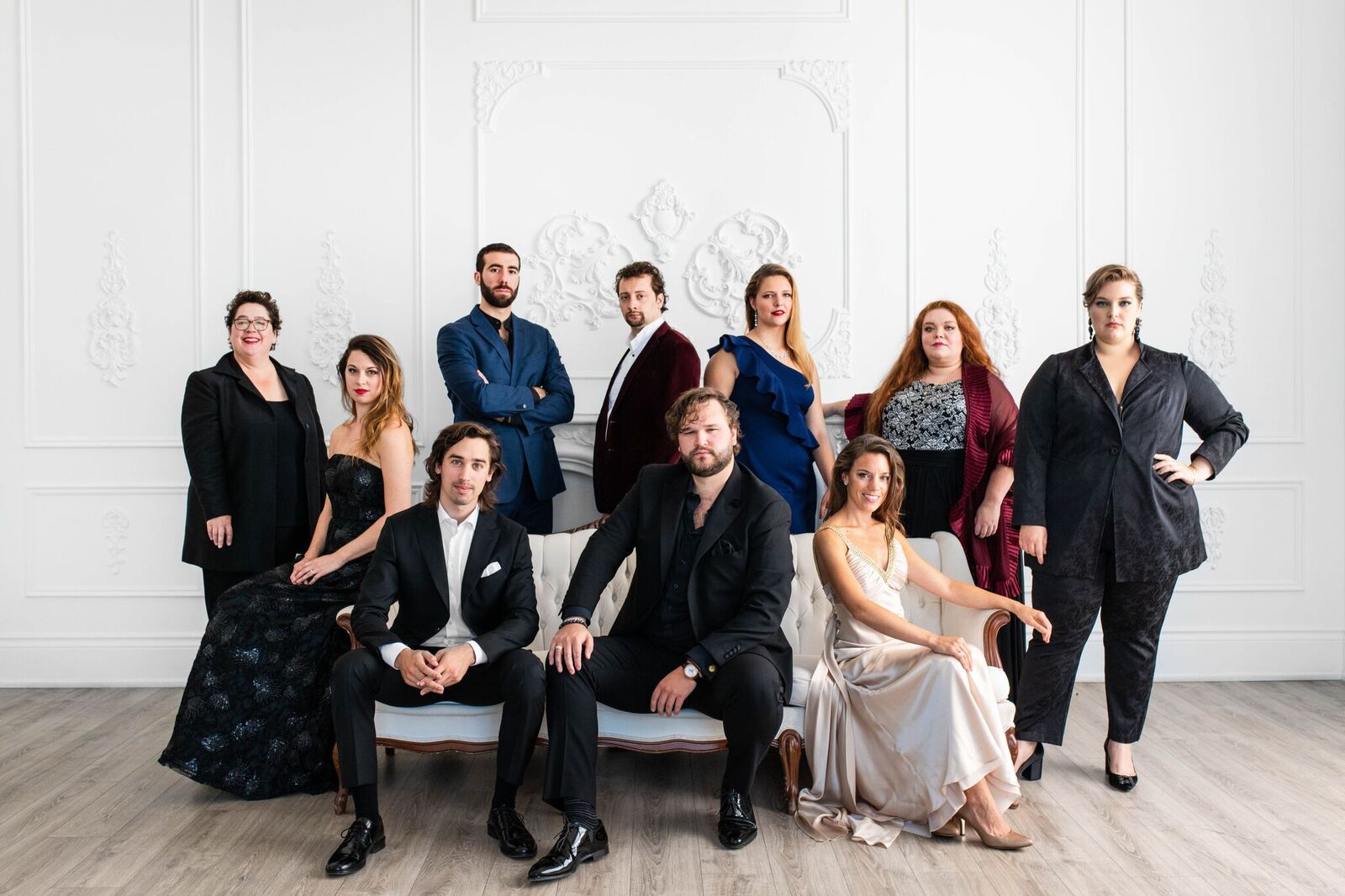 Liz with the 2019/2020 Ensemble Studio
Photo credits (top to bottom): Chris Hutcheson; courtesy of Liz Upchurch; courtesy of Krisztina Szabo; courtesy of Liz Upchurch; Gaetz Photography
2019 11 09